"Innovative multifunctional urban complex "Olympic Park"
"Olympic Park" is an innovative multifunctional urban complex of premium class planned for realization by Setko International LLC, part of the BNK Estate group of companies.
"Olympic Park" is located in one of the most environmentally friendly and promising parts of Minsk – within the boundaries of Pobediteley Avenue – Ratomskaya St. – Timiryazeva St. The concept of the project involves the construction of low-rise housing developments with a large percentage of landscaping and developed infrastructure.
Advantages of "OLYMPIC PARK":
– Location: non-polluted area of the city close to the "Lebyazhy" nature reserve.
– Developed infrastructure for the whole family: playgrounds, workout-zones, bike lane only for residents.
– Safety: private area with checkpoints and a 24-hour video surveillance with smartphone application access.
– Quality: application of the modern European standards in construction, fiber optic network and advanced engineering systems.
– Comfort: : high level of sound insulation, panoramic glazing and open floor plan.
– Landscaping: an abundance of planting and well-designed recreation areas.
New building line "Olympic Park":
– 8 low-rise buildings;
– school;
– kindergarten;
– multifunctional trade administrative complex;
– multi-level parking
Pre-implementation period of the facility: 2025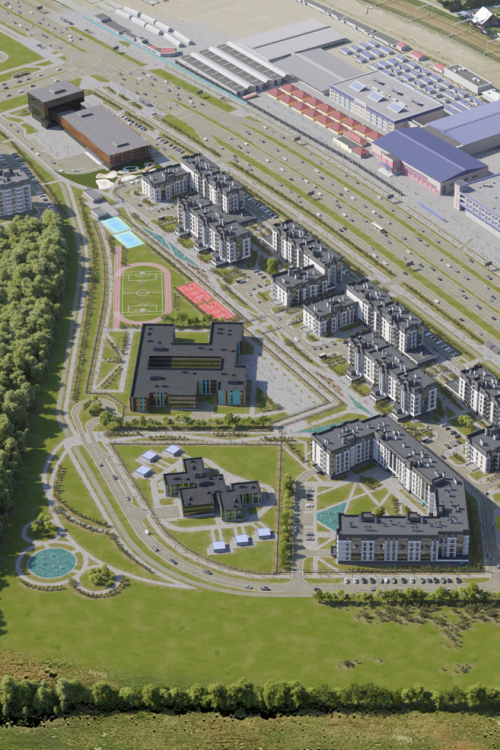 The object is the only one of its kind and currently has no analogues in the Belarusian real estate market. This is an investment in the future. A safe, friendly and interesting life is guaranteed here.
Olympic Park is a modern quarter for a comfortable life.